Pelco corporation, founded in 1957 by E.L. Heinrich, is the premier manufacturer of commercial security and surveillance equipment with distribution in more than 130 countries throughout the world.

Begun as a sideline of the well-established Pelco aviation machine shop in Hawthorne, California, the then aptly named, Pelco TV manufactured its first products. These early products included pan-and tilt-devices and joysticks used to remotely position TV cameras. Soon, orders came in for more elaborate controls, such as variable speed and auto scan mechanisms, and more robust pan-and-tilts.

The operation was later moved from its Hawthorne shop to the rear of the Pelco Aviation building in Gardena, California. The name Pelco Aviation was discontinued in favor of the new Pelco Sales, Incorporated. By this time, the company had rapidly overtaken the entire production capabilities of its original machine shop home.

Soon, Pelco outgrew its small Southern California headquarters and now required a large structure that would house all of its departments under a single roof. In a bold move executed in order to take advantage of an abundant workforce and reasonable real estate costs, the choice was made to build a new facility in Fresno, California.

Within the first three years of production, Pelco's perpetually expanding business had used up every square foot of floor space of its new home. Plans were soon again made to build a new 80,000 square foot building in Clovis, California. Construction of the new facility was well under way when original founder, E.L. Heinrich, was approached by a local group of investors headed by the Company's current President, David McDonald. The investors aimed to buy Pelco Sales, Incorporated and expand it into the next century. In June 1987, the purchase was finalized and Pelco Sales, Incorporated became "Pelco", owned equally by two corporations. One half of this corporate alliance is made up by Freedom Acquisitions, Incorporated, which is entirely owned by Pelco management personnel. Lyles Diversified, Incorporated of Fresno, makes up the other half.

Over the past dozen or more years since the transition of ownership, Pelco has added two larger buildings to accommodate their ever-increasing growth (the company has grown 20-fold in the past 12 years). In November 1996, an additional East Coast facility was opened in Orangeburg, New York, to accommodate engineering and research operations, customer training, showroom, and sales and marketing activities.

Today, Pelco's systems are used throughout the world in more than 130 countries. Pelco currently manufactures and supports 2,500 products and employees close to 1,400 employees in Fresno, Las Vegas, Orangeburg and the Netherlands. You will find Pelco security devices in large department stores, airports, government facilities, and on naval warships. Pelco cameras have even been used to monitor rocket launches. So look around and you may just find Pelco equipment "looking back at you".
Product Examples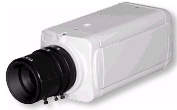 MC5720 Series CCD
Monochrome Camera
Pelco
Worldwide Headquarters
3500 Pelco Way
Clovis, California 93612-5699 USA

(800) 289-9100 USA & Canada
(800) 289-9150 USA & Canada Fax
(559) 292-1981 International
(559) 348-1120 International Fax

Official Website: http://www.pelco.com

Business: Manufaturer of surveilance and security cameras, housings, mountings, electronics, and support systems.

ISO 9001 Certified